When we start looking at individual activity levels and recovery times, it seems natural to look at these needs through a daily lens.
Most people want to know how much of their day they need to dedicate to exercise and rest.
Although this approach is useful for some, it is often better to look at your exercise and movement habits from a weekly perspective. Since many weightlifting and strength training activities can boost metabolism rates for multiple days, a 7-day average is a better perspective.
Think about it like this: if you exercise for 15 minutes daily, you'll get 105 minutes of total activity time. That might seem like a lot, but it doesn't meet the 150 minutes per week of moderate-level exercise that is the current recommendation.
If someone exercises moderately for three hours, only one day per week, that 180 minutes exceeds the recommendation. Is that the right approach?
The Goal Should Be to Move More and Sit Less
Since many people work at sedentary jobs, it is essential to move at least once per hour. Even if you can only stand and stretch your legs, that movement is better than nothing. Your goal should be to work for 55 minutes before taking a five-minute exercise break.
When you exercise for those five minutes, don't count that time toward your weekly exercise routine. This activity is to counter the effects that sitting creates on the human body.
If you want to meet the 150-minute recommendation, a 30-minute exercise habit that encompasses five days per week can accomplish your goal. You'll want to include muscle-strengthen activities on at least two of those days to maximize your results.
Some people don't have 150 minutes per week to dedicate to their exercise. If you use vigorous activities instead of moderate ones, you can cut the minimum recommended time by 50%.
What Counts as Moderate Activities?
If you don't raise your heart rate to at least 50% of its maximum potential, you cannot count the time you spent as a moderate-level exercise. That's why you'll want to consider using these activities to meet your movement needs during the week.
Start playing tennis with a partner.
Ride your bicycle around your neighborhood.
Take a walk at a brisk pace.
Mow your lawn.
Jogging or running counts as a vigorous exercise, which means you can take advantage of the 50% time reduction when your schedule gets busy. Most runners' issue is that their pace isn't enough to get above the 70% max threshold needed for this classification.
If you only run 4 to 5 miles per hour, you're likely getting moderate exercise instead of the vigorous type you want.
How Much Rest Do I Need Each Day?
After getting your exercise time each day, your body will want to rest to start the repair process.
If you incorporate strength training into your weekly routine, you'll want to give yourself 48 to 72 hours to recover fully before targeting the same muscle groups again. You can incorporate aerobic activities during those off-days to keep benefiting from your exercising habits while resting those areas.
You'll also need to think about your sleeping habits when encouraging your body to rest. Most people require a minimum of seven hours each night, although some people have the biological metabolism to get away with only six hours every evening.
Some people need up to ten hours of sleep each night to encourage the restorative process.
If you have trouble getting to sleep at night, it could be due to when you exercise. Body movements can act as a stimulant, making it hard for your mind to settle. Unless you have no other option, try to complete your time working out by 3 PM.
Sneaky Ways to Get Some Extra Exercise
If you're unsure that you can get the right exercise levels to support your health and fitness, these ideas can help you discover more ways to move within your current routine.
1. Exercise during commercial breaks.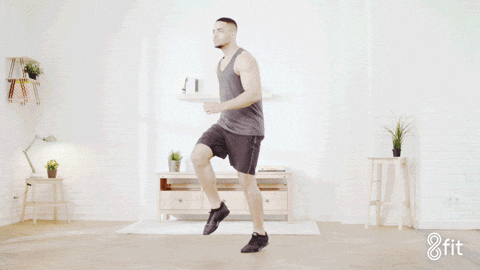 If you run in place with high knees during the ads that run while watching your favorite shows, you'll get about 18 minutes of exercise over a one-hour program.
2. Park further away.
When you run errands, park your vehicle at the furthest point away from the store. You'll get hundreds of extra steps in when you have multiple stops to manage.
3. Take the stairs.
If you ditch the elevator, you'll make your heart rate climb dramatically. When your office is more than six floors up, you can still take the elevator at least part of the way.
The time it takes to exercise and get the rest you need to stay healthy is there each day. You'll find that when these items are a priority, it'll be much easier to accomplish your goals.